Rock-Engravings of Geghama Mountains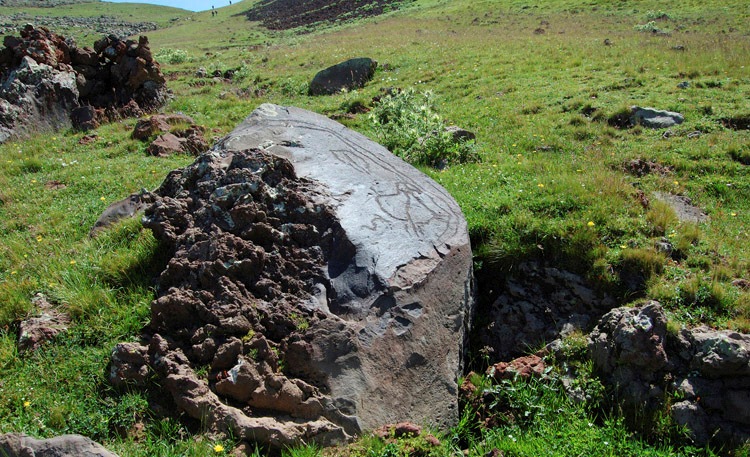 Reveal the Secrets of Armenian "Dragon Stones"
Welcome to one of the most attractive visitor centers in Armenia. Do you want to see the miracles of Armenian highlands with own eyes and uncover their centuries-old secrets? Then, it is high time to have a tour to Gegharkunik region.
Armenian land as an integral part of ancient civilization and one of the ancient cradles of human culture is extremely rich in wonders of religion and nature. The best examples of wonders of our land are unique and significant rock-engravings that illustrate the beliefs of the ancient times. 
The lovers of mountain climbing and alpinism are happier to find large groups of rock-engravings on the slopes of mountains surrounding Lake Sevan. The most distinguished ones are the rock-engravings of Geghama Mountains. The mountain range stretches from South to West. The eastern slopes of Geghama Mountains, gently sliding, gradually merge with the plateau of lava-stream of the mountains surrounding the lake. And the western steep slopes descend to the valley of Hrazdan river forming the foothills of the mountains of Hatis, Mekenasar, Gutanasar. The history of Armenian place names is full of vivid legends.
According to one of such legends Geghama Mountains were named so in honor of a young lover named Gegham. For the sake of his love, one day he promises to stop the flows of water after mountainous stormy rains that were flowing to the villages to ruin the dwelling places. For several years Gegham had been sowing seeds of plants on the slopes. Some time later he reaped the fruits of his labour; due to the densely grown vegetation the rainwater could not ruin the dwelling places any more. Since then the mountain range has been called Geghama…
What about are the testimonies of the rockengravings of Geghama Mountains? The flowery slopes of Geghama Mountains are very beautiful, though difficult to climb. Climbing up the flowery slopes you suddenly notice the significant rockengravings – the writings of our ancestors – symbols of goats, human figures and various images. The scenes engraved on the crag-carvings express the ritual symbols of the ancient time. Especially distinguished ones are the scenes of hunting and fishing.
They portray the figures of triumphant hunters standing near the wounded animals with spears in their hands. These images testify that the ancient people believed that portraying wounded animals on rocks they would be able to kill them during hunting.
Due to favourable climatic conditions and mysterious beauty of nature these sights become the "temples of worships". Visit, explore and identify the present-day power of these ancient monuments of faith.
Besides, your stay in the region will become more comfortable in the newly opened hotels of high quality service and recreation zones.