Armenian Petroglyphs (rock-art)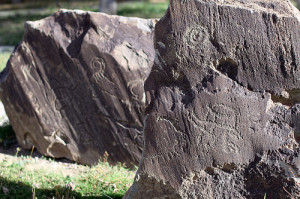 The remains of Rock-Art have been found in over 120 countries. These are the images carved or pecked into a rock face using stone tools. Human-like (anthropomorphic), animal and bird (zoomorphic) images are common, as are circles, spirals, dots, lines, and other geometric and abstract forms. They have great cognitive value and tell us myths of origins, stories of past societies, traditions, emotions, beliefs, defeats and victories of our ancestors.
The Republic of Armenia (RA), which comprises one tenth of the territory of the Armenian Highland, has a plenitude of rock-carvings. Five large Rock-Art areas are well known and nearly 20 thousand carved rock-pieces have been discovered so far. 12000 of these are located in the vicinity of the Geghama and Vardenis Mountain Ranges (2500-3200 m above sea level) and more than 6000
in the Syunik Mountains (3000-3400 m) in the south of RA. Another 2000 have been found on the slopes of Aragats (1100-3000 m), the highest peak of RA (4094 m) and on the slopes of Navasar, near the second peak of RA — Kaputjugh (3904 m). There are also hundreds of rock-carvings in the Qarvachar Region of Artsakh.
A great number of rock-carvings has been found in Western Armenian provinces in modern Turkey and in the Kobustan area of Azerbaijan. All of the carvings located in Azerbaijan and eastern Turkey are similar in subject, style and technique to those in RA, and similar to those presented here (Photos) which are all from the Geghama Mountains.
Almost all aspects of human life are reflected in Rock-Art. Most images depict men in scenes of hunting and fighting, cultivating land, competing and dancing. Different animals, especially goats, deer and panthers, as well as the mythological creatures – "vishaps" (dragon-like steles) are pictured. Some rock-images reflect the adoration of maternity, the ancestors, heroes, spirits, fertility and time. Geographic elements are also featured: rivers, lakes, springs etc., followed by astronomical bodies and phenomena: the Sun, the Moon, stars, stellar constellations and starry sky, bolide, comet, and lightning. There are many images of carriages and various structures, maps, water-grids, starry sky, as well as carved compasses, solar and lunar calendars. Like rock art monuments elsewhere in the world, the petroglyphs of Armenia, by their great number, styles and diverse content, occupy a unique place in our cultural heritage from the ancient world.