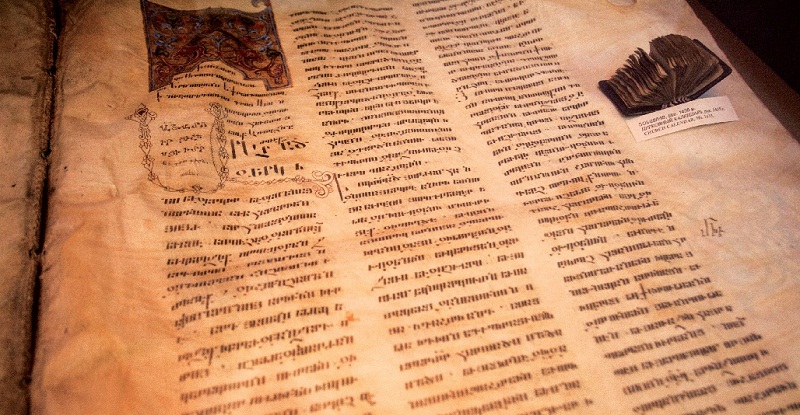 The Giant Treasure of Matenadaran
One of the gorgeous sights of Yerevan is Mashtots Avenue which stretches along many beautiful buildings, but the most gracious architectural one stands at the highest place at the edge of the avenue. This building made of steel color basalt is Matenadaran, research institute of ancient manuscripts after M. Mashtots which has an enormous heritage of ancient Armenian manuscripts and medieval books. The ancient manuscripts are greatest values of the Armenians. There are 30000 ancient Armenian manuscripts all over the world, 17000 of which are kept in Matenadaran. The other huge amounts of them are kept in the library of Armenian patriarchate in Jerusalem (4000 manuscript), in Mkhitaryan Unity of Venice (4000 manuscript) and in Vienna (2500 manuscript).
The most ancient manuscript of Matenadaran which has been wholly preserved is "Vehamor Gospel" ("Gospel of Our Lady", 8th century). But the most remarkable treasure of Matenadaran is the bookgiant, "Msho Charentir" which is the biggest Armenian manuscript and it weighs 28 kg. The institute of ancient manuscripts holds the 601 sheets of the Charentir, each of which is made of the leather of one heifer or steer. Initially the manuscript had 660 sheets; 17 of them now are kept in Venice. The Armenian manuscripts also suffered the impact of historical tragic events. But Armenians has always treated the manuscripts as sanctuary and have saved them from the volition of the foreigners. And "Msho Charentir" is one of the miraculously survived manuscripts. Till 1915 it was kept in St. Arakelots monastery of Mush (from where the name of manuscript derives), and during the Armenian Genocide it was saved by two Armenian women who divided it into 2 parts and brought to Eastern Armenia. This manuscript is rich in miniatures the colors of which are so vivid as if they were painted not centuries ago but quite recently. The dyes were made of natural paints so they have not lost their freshness. It is known that the Armenians had got the red color from the Vordan Karmir (carmine), an insect that was spread in Ararat valley. It is noteworthy that the smallest treasure of Matenadaran is put next to this giant-book. This is the church calendar of 1434 and weighs only 190 grams.
The manuscripts in Armenia were written by hand till 14th century; the first printed books appeared later and only in 1952 the manuscripts were finally substituted by printed books. Now on the threshold of the 500th anniversary of Armenian typography on April 23 the statue of "Msho Charentir" by famous Armenian sculptor David Yerevantsi will be opened in Yerevan.
The role of the Armenian language and writing in the world culture becomes clear with each visit to Matenadaran. One of the most ancient and richest depositories, Matenadaran houses numerous valuable books and ancient manuscripts which are worth of
acknowledgement, and one of them is "Msho Charentir".