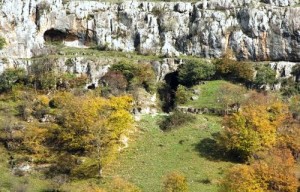 Hadrout is one of the main regions of NKR. The old quarters of the town present much interest, built in the best traditions of the Armenian town-planning culture of the 19th century. At the same time it became the second, after Shoushi, handicraft center of Karabakh. As per the custom, the curtains of Elysian Palace in Paris have been made of Hadrout silk. Here one can see pagan as well as early middle-age period constructions. The church of St. Harutyun was constructed in 1621. To the south of Hadrout the Spitak Khach Vank Monastery is situated (13th), which can be seen from the center of the town.
AZOKH CAVE
Azokh Cave is the most famous Stone Age stands of Caucasus. The archeological digs found the Neanderthal man's jaw-bone, later called azokhantrop by historian, as well as stone instru¬ments, traces of primitive art. Huge stalactites and stalagmites testify the extreme antiquity of the cave's nature process. If illuminated, the walls of the cave have strange surface that shines so brightly, that you feel yourself in a magic palace.
GTCHAVANK MONASTERY
To the North-East of Toghasar Mountain, among the thick forests is the well-known Gtchavank Monastery. It was one of the political and spiritual centers of Eastern Artsakh. It played a great role in the cultural life of the region, was the residence of diocese's bishops. It had an own matenadaran. The record on the wall reads that the monastery was built 13th century by two brothers-bishops Ter Sargis and Ter Vrdanes. The monastery has a number of highly artistic khachkars (cross stones) and a cemetery. Despite of the fact, the monastery is difficult to be reached, tourists are greatly attracted by it.