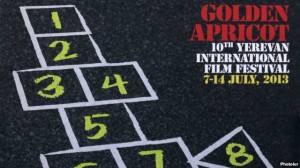 Annual International Film Festival Golden Apricot was established in 2004 in Yerevan, the capital of the Republic of Armenia, by the "Golden Apricot" Fund for Cinema Development, the Armenian Association of Film Critics and Cinema Journalists, supported by the Ministry of Foreign Affairs of the Republic of Armenia, the Ministry of Culture of the Republic of Armenia and Benevolent Fund for Cultural Development. Internationally acclaimed Canadian-Armenian director Atom Egoyan was named President of the festival since 2005.
The Golden apricot International Film Festival carries the theme Crossroads of Cultures and Civilizations. The title may well serve as our impassioned
mantra for building cultural bridges and fostering dialogue. It also reflects the history of Armenia itself, which for millennia has existed as flash point for competing geopolitical forces.
Armenia's desirable geographic position has made it into a bone of contention for various empires, but has, on the other hand resulted in the civilization
replete with world influences and dynamic arts heritage. We welcome films representing diverse ethnic groups, religions, and nations that depict the human experience, the daily lives of people, ordinary and extraordinary, their troubles and their joys, as they try to find meaning in a changing world; as they struggle to redefine themselves in a world that recognizes fewer and fewer boundaries.