Welcome to Nagorno Karabakh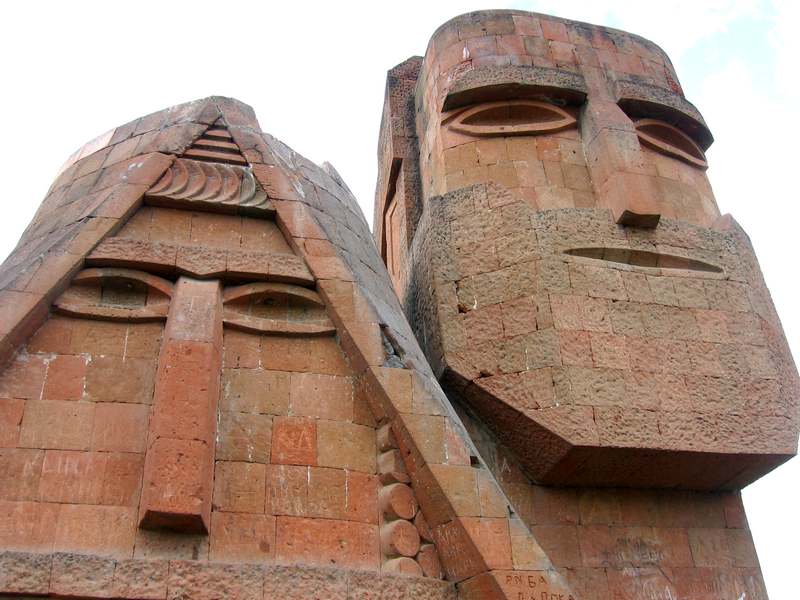 May 9 is a unique feast in Nagorno Karabkh, as this is the day of Shushi liberation and day of creation of NK defense army. This was a unique possibility for us to go on a trip to Nagorno Karabakh, learn everything about its history and cultural heritage.
So, Welcome to Nagorno Karabakh! Nagorno Karabagh is located in the northeastern area of the Armenian highlands. Since ancient times, it has been a province of historical Armenia. The northeastern border, according to all ancient sources, was the Kura River. In the ancient Armenian state of Urartu (9th-6th centuries B.C.), Artsakh was referred to as Urtekhe-Urtekheni. For a number of years people living in NK had to struggle against the Persians, Turks for keeping the country identity. And on May 8 of 1992 with the liberation of Shushi fortress the country declared its independence as the Republic of Nagorno Karabakh which has its defense army, history and culture and is divided into 10 regions: Shahouman (occupated territory), Martakert, Askeran, Martouni, Hadrout, Shushi, Kasatagh (Lachin Region), Karvatchar (New Shahumian) and Stepanakert – the capial of
STEPANAKERT is the capital city of NGK with the population of 55 thousand people. By the end of XIX century here already was a small city with the mixed Armenian-Russian population, schools, Armenian-Russian orthodox churches, public buildings, hotels and profitable houses. After formation of the USSR the settlement became the main city of Karabakh and has been named Stepanakert in honour of Stepan Shaumyan – the head of a legendary Baku commune. Heart of Stepanakert is the area of Veracnund (Revival) with the Presidential palace, buildings of Parliament, the Government and the Palace of youth. One of the most picturesque places of capital is the central city market which represents an original combination of fair of the industrial goods and agricultural production. Besides, you'll find many monuments commemorating Karabakh war by fighters – Azatamartikner, a monument to victims of Sumgait tragedies, sculptural composition symbolizing grief on victims of earthquake in Spitak city. Symbol of Stepanakert, and the whole Karabakh is the monument "We and Our Mountains ", widely known among people as "the Grandfather and the Grandmother".
SHUSHI – the city-fortress of Shoushi, with its two hundred years history has become a symbol of tireless belief of the Armenian people. Crystal-clear mountain air, soft climate, woody vicinities, sources of medical mineral water make Shoushi one of favorite vacation spots in NGK. Archeological excavations here reveal subjects of material culture of an epoch of Hellenism and the early Middle Ages. One of the basic sights of the city is Shoushi fortress. The walls of a citadel which have almost completely kept up to now from the beginning of XVIII century were erected by the meliks (princes) of Varanda. In the end of 19th centuries for religious needs of a part of the population professed Islam, in Shoushi 2 mosques built by the Persian architect. Moreover, you'll find Church of Sacred Jesus Christ, called also Ghazanchetsots, Museum of Shushi, Gorge Hunot and etc.
ASKERAN – the region of Askeran occupies the central part of RMK. In Askeran there are forty five settlements, from which one is the city – center Askeran, located about fourteen kilometers from the capital of RMK Stepanakert. One of the worth visiting places is Askeran fortress, which majestic walls can be seen in fourteen kilometers to the east from Stepanakert, on a way to historical and cultural reserve Tigranakert. The village Avetaranots is a real open-air museum. Worth visiting is the monastery of Saint Gevorg, the monastic complex of Bovorukhan, basilica of Pirumashen, house-museum named after Nikol Duman. The spring located in the vicinities of the village of Aygestan in ten kilometers on a line of Stepanakert – Gandzasar is well-known for its curative water which treats skin diseases. Thousands of people have got rid of their illness only having made ablution and washing out the affected parts of their bodies by the water of this spring.