The Museum of Folk-Art in Armenia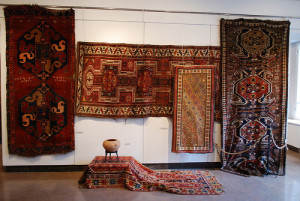 The Museum of Folk-Art, named after artist Hovhannes Sharambeyan, is a unique cultural center best representing the Armenian folk art. Here there are Armenian decorative-applied and pictorial works. Situated at the beginning of the Abovyan street, near the statue of Khachatur Abovyan and decorated with ornaments peculiar to the Armenian architecture – pilasters, capitals with engraved bunches of grapes and pomegranates, the museum building opens its hospitable doors to everybody and invites to admire the various things which are made by Armenian masters and are considered to be the indivisible part of folk art.
The museum collection began to be shaped still from the late 1930s by the efforts of the group led by ethnographer Habetnak Babayan. Painters Martiros Saryan, Hakob Kojoyan and Gabriel Gyurjyan actively participated in its enrichment. On the basis of the collection, the exhibits of which were gradually increasing, the Museum of Folk-Art of Armenia was opened in 1978.
Now the collection has about 12000 exhibits. Each of them is of national and cultural value and tells us about the experience of Armenians maintained during the centuries and gives broad imagination about the different phases of the development of Armenian folk art. The exhibition consists of some parts: there are exhibits of wood enslavement, artistic working out of metals, especially unique exhibits of silver-making art, embroidery, stone-art, ceramics, miniature carvings, about 350 carpets, numerous pictorial works which have been exhibited in various museums of the world. Among them with their developed executive art and fine working, figured wooden rolling-pins and stamps for gata, music-paper and book supports, interesting scales made of one piece of wood, delicate silver adornments and belts, tablecloths and embroideries strike visitor's eye. The Museum of Folk Art has its branch in Dilijan, in Tavush region, opened in 1979. The building of the museum was built in 1896 and belonged to national-social figure, benefactress, princess Mariam Tumanyan. The last inhabitant of that house was Hovhannes Sharambeyan who had been managing the museum works and by whose efforts the branch was opened. The great love and devotion to the folk art gave him the opportunity in a short period of time to make the museum one of the best cultural centers of the Republic, and still today it continues to be so, organizing exhibitions and paying great attention to the development and fame of Armenian traditional arts.