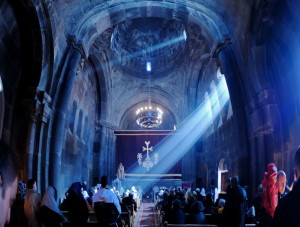 Purification of Body and Soul
According to the church calendar we have festive and fasting days in the year.There are 158 fasting days the part of which are lent days and the others are long lasting fasts. One of the fasts, the most popular with people, is the Great Lent. It lasts 48 days from Bun Barekendan (Fat Tuesday) to Saint Resurrection Day (Easter).This year the Great Lent begins on February 11 and lasts till the 31th of March, the eve of the Easter.
The lent has great meaning and significance for the Christian people.At first sight it is perceived as self deprivation and restrained use of food. During the lent period people use only food of vegetable origin. But the sacrament of lent is not limited only by not using some foods. During the lent period people leave their inveterate habits sanctifying not only their bodies but also their souls. The essential meaning of the lent is to become spiritually sanctified after which people gain a new way of perception of life.
The great lent period consists of 7 weeks each Sunday of which has its council and history. The Armenian Church has graced these Sundays by individual names. These seven Sundays make a chain of Bible stories which reflect the whole process of human life and divine salvation.The first Sunday is Bun Barekendan which is followed by Expulsion Sunday which symbolizes the exile of Adam from the paradise.
The third is the Sunday of Prodigal Son and points out the penitence, the term to turn to God and to regain the lost paradise. The next one is the Sunday of the Steward which shows the role of wealth management in eternal salvation. The fifth one, the Sunday of Judge, preaches the significance of permanent prayer for salvation. The last one is the Palm Sunday which summarizes the council of the Advent of Christ.
The 40 days of the lent symbolize the period when Christ had been praying and fasting in the desert. The 40 days of lent end with another week of fasting that is known as Holy week. Holy week includes the last events of Savior's earthly life: the entrance to Jerusalem, the Last Supper, the Betrayal, the Crucifixion, the Death, the Funeral and the miraculous Resurrection. This year the Great Lent is divided on March 7.
This day is called Mijink (Median day of the Great Lent).According to tradition on Median day people bake an unleavened cake and put a coin in it. It is believed that the coin will bring success to the person who find sit. To comprehend the significance of the lent we should know that the fast is established in paradise as the first commandment of God is to keep a fast.
Thus, keeping a fast is not just refusing to use food of animal origin; first of all it symbolizes the purification and sanctification of human soul.