Old Dilijan: 2009 best outdoor project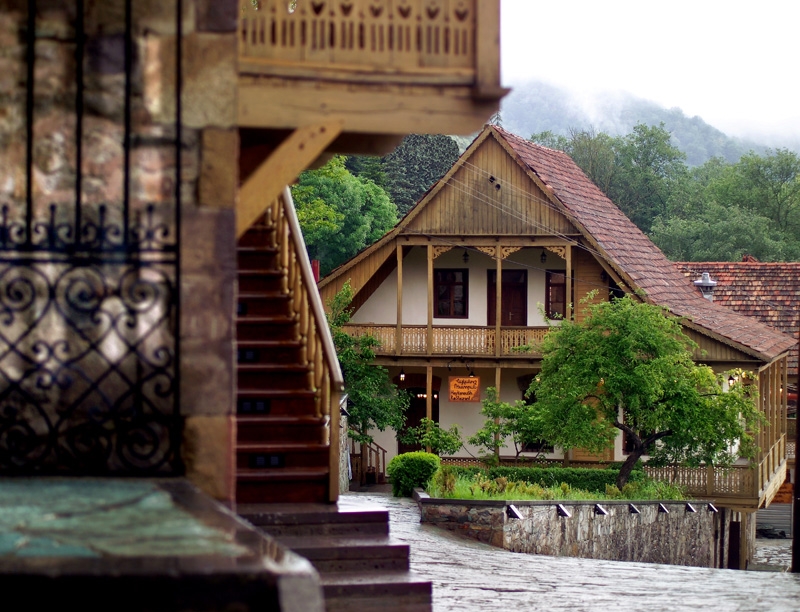 Generally a restaurant should meet some definite criteria to be awarded as the best one. This rule corresponds to the international standards of organizing such kind of competition, the purpose of which is to recognize the restaurants that best represent the ethnic heritage of delicious cuisine in Armenia, served in an enjoyable atmosphere and good cheer. On this matter we must say the committee decision to award "Haykanoush" Restaurant, part of "Old Dilijan" Complex, as the best "2009 Outdoor Project", held on October, was fair and impartial. "Old Diljan" Complex is one of the four hotels of Tufenkian Heritage Hotels situated in the town of Dilijan, Tavoush region. The two-storied restaurant combines the design of late 19th early 20th century, with the high sailings, decorated with wooden beams and chandeliers, the wooden floors covered with famous hand-made Tufenkian Carpets. The "Old Dilijan" restaurant features traditional Armenian dishes, based on fresh local ingredients and regional recipes, creatively einterpreted and expanded by the Tufenkian culinary team.
Tufenkian Heritage Hotels was founded in 2001 with the main goal to introduce guests, no matter locals or tourists, to the countryside of Armenia – an undiscovered tourist destination. Each hotel, located within a scenic village setting, features luxurious rooms designed by the best Armenian architects, furnished with valuable paintings, furniture, and renowned Tufenkian carpets handcrafted by Armenian weavers.
Tufenkian hotels in Yerevan, Sevan, Dilijan and Lori combine beautifully designed facilities with exceptional comfort and service. All the guests can enjoy Western and Eastern Armenian cuisine based on fresh local ingredients and regional recipes in the hotel's restaurants in Lake Sevan and Yerevan, designed as Armenian medieval dining rooms. Tufenkian Heritage Hotels has been awarded for a number of times, including "Gold Medal" in 2008, as the company make great efforts to promote the tourism development in Armenia and to support sustainable efforts to protect, preserve and promote the country's natural, historic and cultural resources.