Jermuk Armenia – Treat Yourself to Spa and Active Recreation!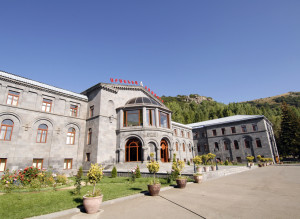 On south-west of Armenia, some 175 km away from the capital Yerevan lies Jermuk — a fascinating first-rate hydropathical and climatic resort city, nestled in a picturesque plateau, at an altitude of 1980-2080 meters above sea level. High mountain ranges, alpine meadows and lush forests teeming with wildlife (foxes, hares, badgers and even bears) surround the plateau, providing visitors with absolutely pure air, free of dust and filled with flower odor. The name 'Jermuk' comes from the Armenian word 'jerm' meaning 'warm.'
This exclusive piece of Armenia was loved by many Armenian classical writers, including P. Sevak, W. Saroyan, S. Kaputikyan and others. During one of his visits William Saroyan said: "The Armenian World is a real Paardise and its high, skyscraping crown is the Jermuk city. There is plenty of water, and sunshine is filling soul with warmness. Everyone once visited this wholesome place will never forget sweetness of its healing water, shady forests, magnificent waterfalls, the smell of the Alpine flowers, and silvery smooth surface of the Arpa River."
Marshal Baghramyan, while having his rest in 'Ararat' wrote: "Jermuk is an admiring place, you can't even imagine anything like that. It's impossible to describe its disposition. You can explain something orally, but in written form you should be at least Raffi to draw nature so skillfully… Climate here is wonderful, and the scene of Zangezour Mountains induces something energetic, powerful…"
The river Arpa, famous for its delicious fish, especially trout and koghak, flows across the town and a deep canyon, dividing both the town and the whole mountain chain of Vayots Dzor into two parts. The resort area with an abundance of trees, open spaces, mesmerizing views, interesting old sanatoriums and more, is small and manageable enough to wander around on foot.
The town attracts visitor with its huge waterfall (with a height of 70 meters), the natural bridge, the lake, its forests with walking trails and mineral water pools. However, what's a real must-see in Jermuk is the 10th century Gndevank Monastery with its fort-like walls built all around. For travelers holidaying in Jermuk in winter, there are local rentals of high-quality ski equipment, snowboards and snowmobiles. Since 2007, a ropeway built in accordance to the international standards functions in Jermuk.
For centuries, Jermuk has been and continues to be mineral water- and air-spa; it was mentioned even in the manuscripts dated as back as the I century BC. The first scientific expedition came here to study the medicinal characteristics of the spring and its influence to human organism in 1925, which resulted to a decision to establish a mineral-water based resort town in Jermuk.
There are more than 500 thermal springs (geysers) in Jermuk, which belong to the compound class and contain carbonic acid, sodium, sulphate, hydrogen carbonate, calcium, magnesium, potassium and fluorine to name but a few. They are used both for drinking and for baths, providing therapeutic action for such diseases as liver, digestive apparatus, metabolic and nervous system, and many other chronic diseases. With its chemical composition, the Jermuk mineral water is very similar to that of Karlovy Vary.
Jermuk is also distinguished with its wonderful mild climate: cool summers with prevailingly fair weather; springs and falls with no fog combined with mild and windless winters full of snow.
Of great interest is the Armenia Health SPA in Jermuk, a classical Armenian architecture style monumental building, which is the most famous and distinguished sanatorium in the Republic. The resort with a scenic and romantic landscape will produce a calming effect on you, being not only a place for healing ailments, but also for recreation. With traditional features of the resort zone and latest technologies in medical care, add to this proven and effective treatment methods, pleasant atmosphere and top notching customer service, the sanatorium is sure to satisfy taste of even the most discerning visitors.
Another famous accommodation in Jermuk includes the newly renovated luxurious Hotel Olympia or Sanatorium, offering spacious fully-equipped rooms, a restaurant serving traditional Armenian cuisine, a range of entertainment facilities like library, table-tennis, beauty salon, high-speed Internet, etc., as well as mineral water treatment that will make you feel reborn.
In a nutshell, Jermuk offers you the best combination of the rest and treatment and is a place to be seen to be believed! Once you are in this fabulous getaway, make sure to visit the so-called 'Drinking Gallery' and try its running mineral waters at different temperatures. So, come to this remote and tiny corner of Armenia and enjoy fun and entertainment with alleviation of health problems if you have any.