History Museum of Yerevan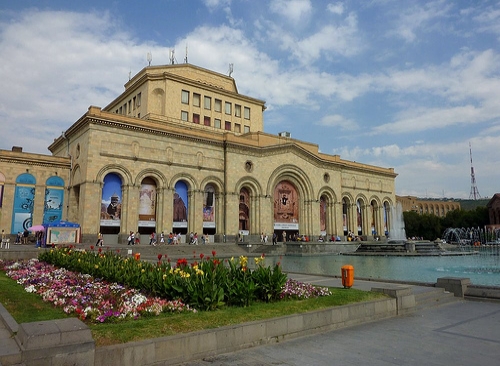 The museum of one of the ancient cities in the world, the Yerevan History Museum, was founded in 1931. It is situated in the territory of the historical Yerevan Fortress and together with the Municipality composes a common architectural complex. The building itself is of great architectural value and is regarded as a dedication to Yerevan and the other 11 martyred capitals of Armenia.
More than 87.000 exhibits of the museum (such as archeological, ethnographical and numismatic objects, collections of documents, photos, paintings and etc.) throw light on the history of the city beginning from ancient times up to our days. Besides the main exposition the museum organizes various temporary exhibitions with the help of which our guests may have an opportunity to get acquainted with ancient and new Yerevan.
The Yerevan History Museum has a special course for children due to the future generation can enrich their knowledge about our ancient capital.
So paying a visit to the History Museum of Yerevan you can gain access to the depth of antiquity, admire the market and the streets of ancient Yerevan, find yourself in the house of a hospitable Yerevan dweller of the 19th century as well as get involved in the modern development of the old city.
History Museum of Yerevan welcomes you daily from 11:00 am. -17:30 pm. Closed on Sunday.