The House-Museum of Charles Aznavour in the Heart of Yerevan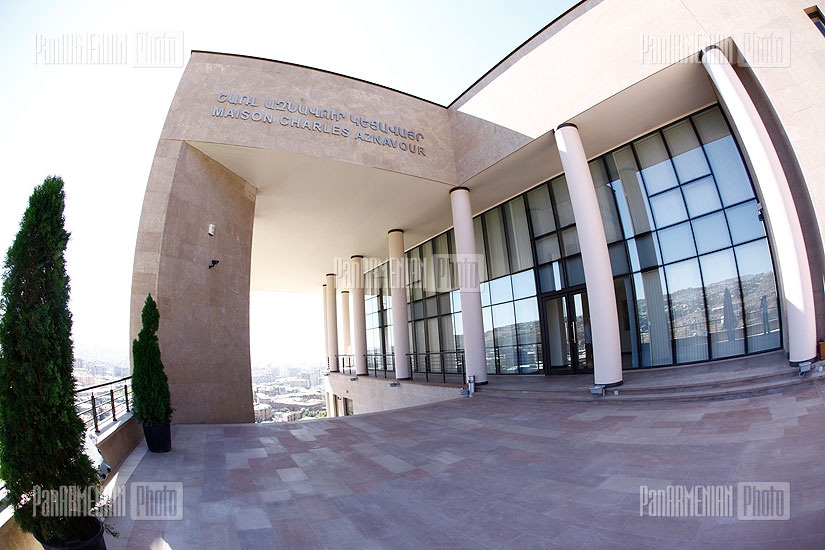 Celebrated chansonnier Charles Aznavour participated in the openning ceremony of his house-muséum. After 3 years of constuctional works, which were held under the auspices of the president of Armenia, the architects introduced the house-museum to the public. It is noteworthy that the building itself is not a traditional museum complex; but it is a residence with dwelling and working rooms as well as with multifunctional cultural areas. The residence is situated in the heart of Yerevan – in the northern side of Cascade Complex, having a slight declivity which gives solemnity to the building.
The architectural idea of the building creates spatial gates that symbolize the entrance to "Ararat Country". From the entrance everyone can view the panorama of the city beyond which the biblical Mount Ararat stands proudly. As honored architect Narek Sargsyan mentions, the architectural simple forms of the structure make possible the future multifunctional application of the halls. "Not to feel the magnitude of the 4-storey building the style of spatial open halls is used which represents Armenian architecture. In Cultural meaning the architectural project of the structure gives the opportunity to hold various events, such as meetings, evenings of classical and French music, evening parties dedicated to the musical heritage of Charles Aznavour", mentions Narek Sargsyan, the chief architect of the residence and continues, "The rooms, not being separated, are fused into each other which gives opportunity to use the halls for different events in the future".
Two lower floors of the building are the exhibition chambers where the visitors can see the portraits of the famous singer. The main collection of the exhibits is disposed to the museum by Charles Aznavour. In one of the spacious halls of the ground floor a pleasant surprise is waiting for the visitors: here you can see a beautiful Armenian taraz (garb) which is considered to be the dress of grandmother of the famous chansonnier. The upper floors include the dwelling rooms where the personal belongings of Aznavour and exclusive samples brought from his personal library in Paris are exhibited, such as fiction, maps, golden disks and cassettes, as well as his orders. The building of 1700 square meters in general space has 2 open-air staircases that serve as amphitheater for open-air concerts. Besides, the translucent arches of all 4-storey building face to Cascade Complex and give us opportunity to admire the beautiful view of the city from inside.