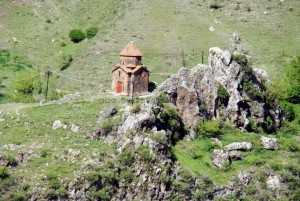 Bjni is situated in the gorge of river Hrazdan, Kotayk Region (Marz) 9 km south east from city Hrazdan. Bjni was known for church Surb Astvatsatsin (Holly Virgin) and the castle. Not far from the village one can find remaining of the castle. There is a secret that the castle was connected to the neighboring villages with underground secret ways.
The castle is situated on the nose that is surrounded by high rocks and from the northern part the castle is surrounded by a enclosure. The enclosure has two rows. It was reconstructed by Vasak Pahlavuni. Castle of Bjni was considered one of Ani's nine protecting castles. Also there was a water reservoir. It has a very interesting arch. Partially the tuff church have been protected.
Church Saint Astvatsatin of Bjni is very like to the church of Marmashen that was also built by the Pahlavuni. Bjni church was built in 1031, five years after Marmashen. Specialists consider that both churches were built by the same constructor.
Excavations in Bjni were implemented at the end of 90s of 1970.