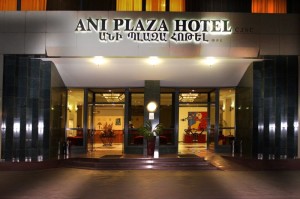 Is a great 4-star hotel in the heart of Yerevan, Armenia! Everything is within a short taxi ride away.
We at Ani Plaza Hotel are committed to providing the highest quality of hospitality to visitors to Armenia who select us as their hotel of choice. We pride ourselves in providing our clientele with the most professional and economical world standard service and hospitality.At your service 99 bedrooms with private bathroom and climate control Mini bar Satellite TV and IDD telephone. Ani restaurant serves local specialties and a selection of continental cuisine. Ani bar invites you to taste a wide range of international beverages and traditional snacks and salads. Conference and banqueting facilities are up to 300 persons. Business Center is available with state of the art equipment.
Ani Hotel was constructed and established on November 29, 1970 and used to operate within the system and under the high protection of the USSR Intourist. After the years of great reforms in the country and declaration of Independent Republic of Armenia Ani Hotel in 1998 was privatized by Ani Enterprises owed by American Armenian businessmen. It was fully reconstructed and refurbished and operates as a 4 Star Hotel (certificate of quality N4, licensed by the Ministry of Trade and Economic Development of RA, received on January 10, 2007) under the brand name of "Ani Plaza Hotel" from September 20, 1999.
Ani Plaza Hotel is comfortably situated in the Business and Entertainment Center of Yerevan. One can reach the Hotel by car within 12-15 minutes from the Zvartnots airport by Echmiadzin highway then following to the Admiral Isakov Avenue, Victory Bridge, Italy, Vazgen Sargsyan, Nalbandyan Street and finally Sayat-Nova Avenue. It's only a few minutes walk to the National Gallery, Opera House, Matenadaran – the Museum of Ancient Manuscripts, other cultural and historical places, as well as restaurants, clubs, number of Spa etc.