› Reviews
Dear visitors,

Please, note, that all the reviews on our web page are published without editing, of course, if they don't contradict the accepted rules on writing comments. For the purpose of improving the level of our serviceс as well selection of the best elements for our tour package organization «Barev Armenia» travel agency always encourages its clients to share their opinions on provided services. We highly appreciate this feedback; please, take into consideration, that your personal experience can help other tourists make the right decision.
To leave a review on a certain hotel, itinerary, tour package, site, transport means, restaurant or any other unit, represented on our website, you need just to enter the page of that particular unit.
22 December 2014
Author : Stepan Ustinov
Добрый вечер! Огромное спасибо за Ваше участие в нашем пребывании в Армении. Нам все очень понравилось и Джермук и Ереван. С наступающим Новым Годом здоровья удачи счастья Вам и Вашим родным. С уважением Анна
04 December 2014
Author : Wang Ling
Sorry for replying you late, due to my busy work after coming back to China. Yes, the tour was just wonderful. Our guide Ara had taken good care of us and we all enjoyed the lunches in the village. Ara had good knowledge on the historical sites we visited and he is also very warm to help us whenever we need his help. The driver is also very good and had given us very comfortable driving experience. Please convey our heartfelt thanks to them! Thank you very much for the good service. Wish you have a good business! Best wishes,
27 November 2014
Author : Ольга Овчинникова
Огромное спасибо Барев Армения за замечательную организацию нашего недельного тура в Армению! Тур очень насыщенный, продуманный, больше за неделю успеть просто невозможно. Все было очень четко – от встречи в аэропорту до трансфера в аэропорт (Машина отличная – удобная, бесшумная, очень чистая, новая). Музеи интересные и во всех музеях нам встречались люди, прекрасно знающие историю Армении и стремящиеся наиболее интересно о ней нам рассказать. Во многом благодаря экскурсоводам в Матенадаране и Музее Истории Армении так интересно побывать. Мы попросили гида добавить к запланированным музеям Национальную галерею- и оказалось, что Художественная галерея в Ереване очень богатая. Обед в Армении- это нечто особенное. Ни разу блюда не повторялись, все было очень вкусно. Мы побывали в очень разных регионах Армении. Природа потрясающая, виды нереальной красоты мы запомним навсегда. Очень хочется приехать еще раз. Особенно хочу поблагодарить нашего гида Асмик и водителя Араика. Асмик – лучший гид из тех, что мне встречались. Она знает ответы на все вопросы – а состав нашей группы очень разнообразный и вопросы мы задавали из всех областей - и Асмик отвечала на все. Я просто потрясена ее эрудицией. Мы не слышали от нее заученных экскурсоводческих лекций- только увлекательные рассказы - об истории Армении, об архитектуре, о блюдах армянской кухни и о многом другом, она рассказывала и легенды и анекдоты, связанные с нашим путешествием. В поездке были совершенно неожиданные замечательные моменты, например некоторые из нас в монастыре Ахпат стояли совсем рядом с колоколами на втором этаже колокольни во время колокольного звона. Во время переездов в машине звучала музыка армянских музыкантов различных времен и стилей, мы увидели запись всеармянского танца вокруг горы Арагац и у колонн руин Звартноца. Очень много интересного мы увидели, услышали, попробовали в этой поездке благодаря нашему гиду, всего не перечислишь. Асмик- девушка, с которой очень интересно и приятно общаться. Большое спасибо! Араик- потрясающающий водитель. Серпантинные дороги Армении для нас- людей с равнины- были бы испытанием, если бы за рулем был кто-то другой . Но Араик вел машину настолько аккуратно, что мы сразу почувствовали себя в полной безопасности и просто смотрели по сторонам на изумительную красоту, которая нас окружала повсюду в Армении. На протяжении всего путешествия мы чувствовали внимание Араика. Большое спасибо! С уважением, Ольга Овчинникова
16 November 2014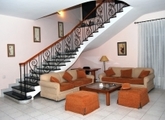 Author : Romela
Ինչքա՞ն ժամանակ է, որ բացվել է Ռաֆայել Հոսթելը, շատ լավն է:
11 November 2014
Author : Ривьера-Сочи
От лица нашей компании примите искреннюю благодарность за отличную организацию экскурсионных групповых туров в Ереване компании "Ривьера-Сочи" с 1 по 8 ноября 2014 года. Вся работа по организации и проведению туров была выполнена на высоком профессиональном уровне, начиная с работы с нашим запросом. Сотрудники вашей компании проявляли заботу и внимание, учитывали все наши пожелания и старались их предвосхищать. Очень понравилось питание, транспортное обслуживание, размещение, профессионализм гидов. Программа туров была очень насыщенной, и позволила нам и нашим клиентам за такой короткий срок очень многое увидеть в Армении. Все участники туров очень довольны обслуживанием и дали только положительные отзывы об Армении, Ереване, программе туров и Вашей работе. Теплые воспоминания о гостеприимной Армении надолго останутся с нами благодаря компании Барев Армения. Благодарим за отличную работу и желаем процветания и успехов !
11 November 2014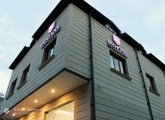 Author : Нина Чакрян
Мы с мужем выбрали этот отель и остались очень довольны.На высшем уровне всё:расположение отеля, супер персонал,вкусные, разнообразные завтраки, ежедневная уборка номеров, удобная кровать. Возможность заказать натуральный заварной кофе.Особо важно было лично для нас- тишина и в тоже время близость к центру. Большое спасибо администрации отеля за живую переписку после бронирования номера.Особая благодарность Елене и Арсену за то что домой провожали нас,несмотря на поздний час, с заботой и вниманием. Рекомендуем этот отель всем!Обязательно приедем ещё!
09 November 2014
Author : Jeity J. Macalalad
We had a great time exploring Armenia and we have learned a lot of interesting details and information from our very good tour guide Karine. We love & enjoyed our long way day tour to Tatev. I also want to mention that the driver is good although he did not speak but his driving was very good. We were able to follow as per the program although there were some wasted time like during lunch time we have waited for almost an hour to serve the food in little river restaurant. We love the food there and beautiful ambiance of the restaurant. Nevertheless, every stops were all very fine. With regards to Tatev Monastery program, at first we thought that we still have time exploring the whole place (Tatev monastery) and still have time for picture taking but suddenly we were advised that we have to hurry back to the cable way station due to change in time to ride in the cable car time. All in all the tour was excellent and recommendable. Please give our thanks & regards to Karine.
09 November 2014
Author : James Manson
My apologies for the delay in getting back to you. My wife and I enjoyed the tour very much – both sites were interesting and our guide was very knowledgeable (and spoke excellent English). We also enjoyed the rest of our weekend in Armenia – a unique culture but at the same time still recognizably European. I would recommend it to my friends.
09 November 2014
Author : Курчиянц Юлия
Здравстуйте, дорогие друзья! Барев! Именно друзья, потому что за те несколько дней, с 1 по 5 ноября, которые мы провели на древней земле Армении, мы чувствовали себя в родном доме, окружёнными близкими и родными людьми. Уезжали со слезами в душе, с мыслью вернуться. Увидеть то, что не удалось. Еще раз вернуться туда, где не удалось всё как следует рассмотреть и прочувствовать. Вернуться не просто в Армению, а в дружеский круг тех людей, с которыми познакомилимсь и которые были нашими Ангелами-Хранителями в этой поездке. Владимир Григорян - человек, который подарил нам в эти дни не просто своё время, но и глубокие знания, прекрасный юмор и свою необыкновенную душевную теплоту. Сдержанный Артак, асс-водитель, которому мы с полным спокойствием вверили свои жизни на суровых дорогах. Милая Сатине, с которой все легко и с удовольствием общались. Незабываемые впечатления. Очень многие, увидев фотографии, послушав рассказы о нашем путешествии, теперь мечтают оказаться в Армении и я думаю, что в скором времени мы вернёмся и наша команда станет гораздо больше. Потому не хочется говорить "До свидания", а просто - "Всего доброго и до новых встреч". Благоденствия и удачи Вашей прекрасной компании и Вашим семьям! СПАСИБО)))! С уважением - Курчиянц Юлия и Курчиянц Вера, Сочи
09 November 2014
Author : Nadezhda Serdyukova
Большое спасибо компании Barev Armenia за отличную организацию нашего тура с 1 по 5 ноября 2014. Всего за 5 дней мы увидели столько интересного и потрясающего, открыли для себя чудесную страну Армению! Благодарим нашего гида Владимира Григоряна, Карена, Сатине и Сирануш, водителя Артака. Ваша безупречная работа сделала нашу встречу с Арменией приятной и незабываемой! Спасибо за тепло и гостеприимство! Успехов и процветания вашей компании и всей Армении!
| | |
| --- | --- |
| Items : 118, Showed 71 to 80 | |