› Reviews
Dear visitors,

Please, note, that all the reviews on our web page are published without editing, of course, if they don't contradict the accepted rules on writing comments. For the purpose of improving the level of our serviceс as well selection of the best elements for our tour package organization «Barev Armenia» travel agency always encourages its clients to share their opinions on provided services. We highly appreciate this feedback; please, take into consideration, that your personal experience can help other tourists make the right decision.
To leave a review on a certain hotel, itinerary, tour package, site, transport means, restaurant or any other unit, represented on our website, you need just to enter the page of that particular unit.
04 September 2014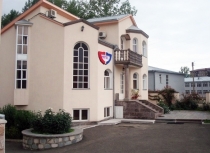 Author : Наталья
Очень хорошая гостиница. При столь невысокой цене номера, был и кондиционер, хороший вайфай, удобный кровати (хорошо убирпли номер каждый день). На завтрак всегда подавали очень вкусный домашний мед. Т.к.Находится на маленькой улице - ночью очень тихо.
01 September 2014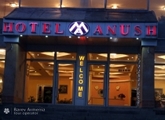 Author : Козубенко Юлия
Доброго времени суток. Хочу поблагодарить за организацию нашего отдыха. Посмотрев на другие отели и санатории, мы поняли, что очень хорошо устроились (благодаря Вам). Соотношение цена-качество очень приемлемые. Вначале, правда, нас поселили не в тот номер, какой хотелось бы (помните я просила чтобы в номере была ванна), но через 2 дня хозяин отеля эту проблему устранил и нас поселили в очень хороший номер с ванной и балконом. Спасибо, что посоветовали именно этот отель, про него на других сайтах очень мало информации и сама я его не нашла бы. И спасибо за трансферы, очень хорошие мужчины водители, вежливые и отзывчивые. Если соберемся вновь в Армению, обязательно обращусь к Вам. С уважением, Козубенко Юлия.
31 August 2014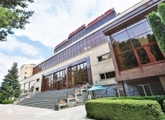 Author : Чеглик Людмила
добрый день! хочу сообщить наши впечатления об отдыхе в дилижане (отель дилижан резорт). сразу хочу сказать, что нас все устроило: и отель, и номер, и обслуживание в отеле, и спа-салон, и отношение персонала. проблемы вызвало только одно - питание в отеле (у нас в стоимость проживание были включены завтраки и обеды). во-первых жуткое одноообразие, особенно на завтраки. кроме того, сложилось впечатление, что шеф-повар в ресторане не уважает себя и не любит свою профессию - так небрежно и некачественно готовились блюда на завтраки и обеды - по принципу все съедят. (я знаю, что пишу, потому что работала поваром в ресторанах и могу оценить). кроме того, у нас дважды были случаи отравления с повышением температуры: в первую неделю - у меня и у внучки, а во вторую - у сына. согласитесь,что такое положение дел недопустимо для ресторана такого уровня. при этом хочу отметить, что на ужин почти каждый вечер мы заказывали шашлык из птицы и овощи-гриль. блюда были приготовлены отлично, с отменным вкусом.то есть, готовить ресторан умееет, но за отдельную плату. вот и все наши замечания. так что, не считая питания, мы отлично отдохнули: великолепная природа, горный воздух, хорошо оборудованная территория отеля, теннисный корт, детская площадка, спа-салон, приветливые люди - всем было, чем заняться. отдельная благодарность нашему водителю и гиду лернику. спасибо вам за организацию нашего отдыха.
28 August 2014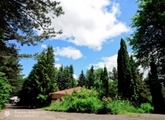 Author : Արթուր
Երկրորդ անգամ չեմ գնա հաստատ, շատ ցածր մակարդակի սպասարկում և ծառայություններ:
18 August 2014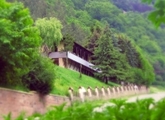 Author : Վաչիկ
Տեղեկացնում եմ այն անձանց, ովքեր ունեն անչափահաս երեխաներ: Որ Հաղարծին Հյուրանոցային համալիրը ունի 3-11 համարի սենյակներ(ըստ իրենց խոսքերի-մոթելային բաժին), որոնք գտնվում են փողոցի մյուս կողմում ` Հաղարծին Հյուրանոցային համալիրց առանձին: Համարների դիմաց գտնվում է ավտոկայանատեղի և Կամոյի փողոցը:
18 August 2014
Author : Przemyslaw
Dear Barev Team, We are back in Poland and I am writing to thank you very much for organizing the trips in Armenia. We have visited all we have planned. The driver and the guide were very good. Armenia is a beautiful country and we are happy we had an opportunity to spent part of our holidays in your country. Best greetings from Toruń
13 August 2014
Author : Евгений
Добрый день! С 27 июля по 8 августа мы вдвоем с женой провели незабываемый тур по великолепной стране Армения! Огромная благодарность Барев Тур за организацию путешествия. Все было просто великолепно - шикарные природные пейзажи, памятники архитектуры и полное погружение в историю Армении! За что отдельное огромное спасибо Роланду Тмояну, его познания в истории и чистое откровенное желание сделать тур как можно лучше и интереснее - выше всяких похвал! Также не могу не поблагодарить наших водителей - Давида и Араика, благодаря им наш тур был совершенно безопасен. Я ставлю 10 баллов из 10 за такой праздник, который подарил нам Барев!
12 August 2014
Author : Maurits Pino
Dear Barev Armenia! Thanks for the organisation of the tour. General feedback, negative, positive, difficulty and questions: I had a great time and the two days were a great success even though in the end we did Aragats/West rather than Aragats/North. Gor is a really nice guy – he's entertaining, he's responsible (notably: encouraging me to choose the west instead of the north peak was very wise), he finds a good balance as regards walking speed etc. Good English, too. Maher was also very helpful but it's obviously not see easy to communicate with him. Difficulty: a) the Azhdahak day was easy (it was hard on the stomach, all this off-road driving!). In retrospect, a more difficult route or a climb from a point further away could have been possible. b) the Aragats day wasn't difficult and the length of the walk chosen (station – Aragats/S-pass-Aragats/W-pass-station) was OK and could have been two-three hours longer without problem. Going up to the north peak would have not been possible in my present shape, I believe. a) Are the shepherds we saw in the Azhdahak area, the Yazidi, the cousins of the people in Iraq who are now suffering so badly from the ISIS ? Gor mentioned snow scooter skiing down the Aragats and other mountains. I could imagine doing this with my son of 11 (who is a very good skier, better than I, in any case): what would it costs for him and me to be taken up a mountain with a guide and make a very long descent? (I'm not thing about this for the short term but in the winter of 2015, 16, 17, who knows?). Thanks for organising this and best regards, Maurits
12 August 2014
Author : Арсен Думикян
Добрый вечер, Хочу сказать вам спасибо, все было здорово. Особая благодарность Роланду. Завтра я передам ваш контакт для еще одной группы, которая скоро приедет для организации подобного тура. Обязательно там гидом должен быть Роланд. )) Все гости остались очень довольны. Вы большие молодцы. Гоэнк, шноракалутюн.
29 July 2014
Author : Ара
хочу ознакомиться с условиями дома отдыха и отправьте пожалуйста на Email цены Ара
| | |
| --- | --- |
| Items : 114, Showed 81 to 90 | |